Indoor Waterslide
Canberra's ONLY indoor water slide is waiting for you at Club Blue!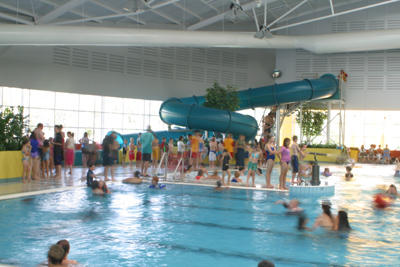 We have the following Pools available all year round:
The water slide measures 41 metres in length, and has its own run-off pool at the end so as not to bother patrons of the other pools.
Our indoor water slide is definitely one of our star attractions, with more than 2000 people a week using it on average.
Club Blue always maintains a minimum of one lifeguard specifically monitoring the water slide at all operational times for your safety.
Club Blue's Water Slide operating hours are outlined below. If you are basing your visit to Club Blue around the hours of the water slide we suggest that you confirm by calling reception on (02) 6251 7888 that there has been no change for that day.
Slide Operating Times
Monday to Friday (ACT School Term)
9.00am - 1.00pm and 3.30pm - 7.30pm
Saturday and Sunday
9.00am - 6.00pm
School Holiday's (Monday to Friday)
9.00am - 7.30pm
Public Holiday's
10.00am - 6.00pm
Please Note: Children under 13 years of age must be accompanied by an adult at all times.